Fill your life
with adventures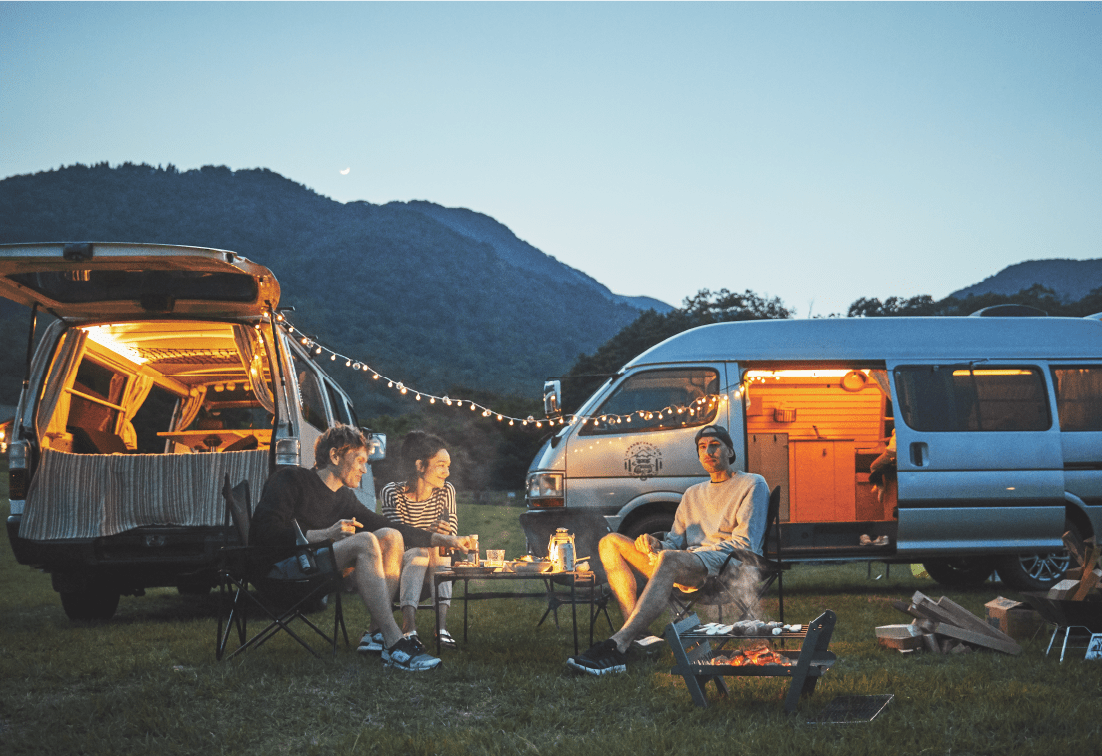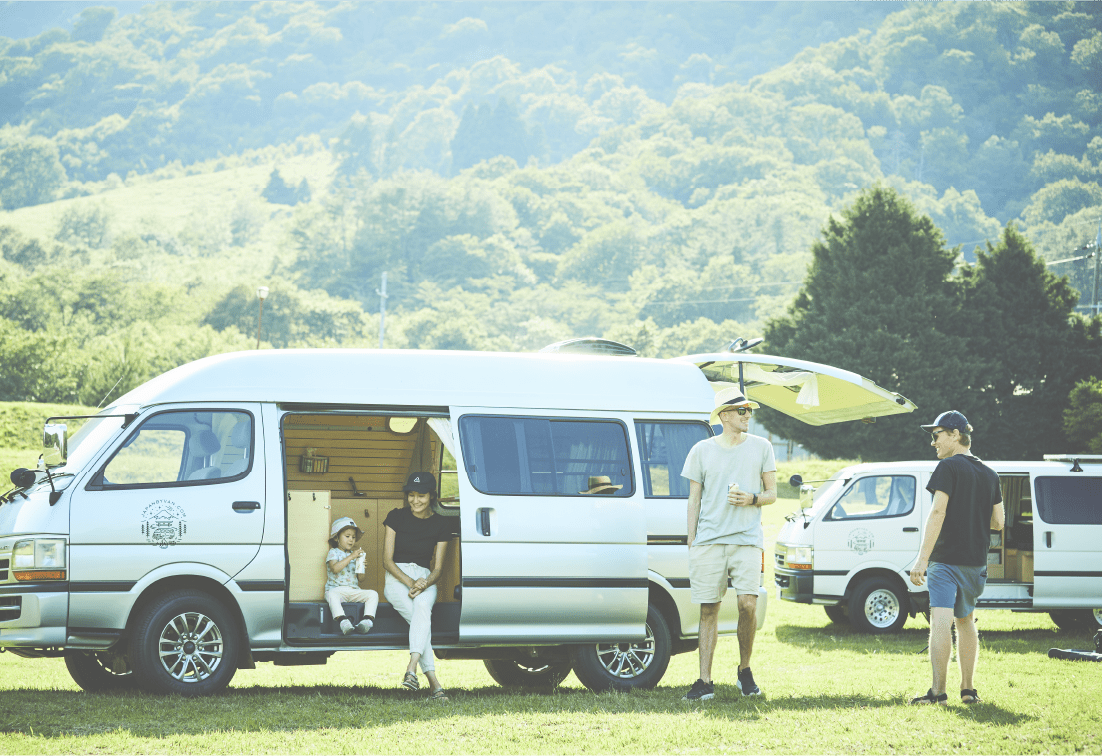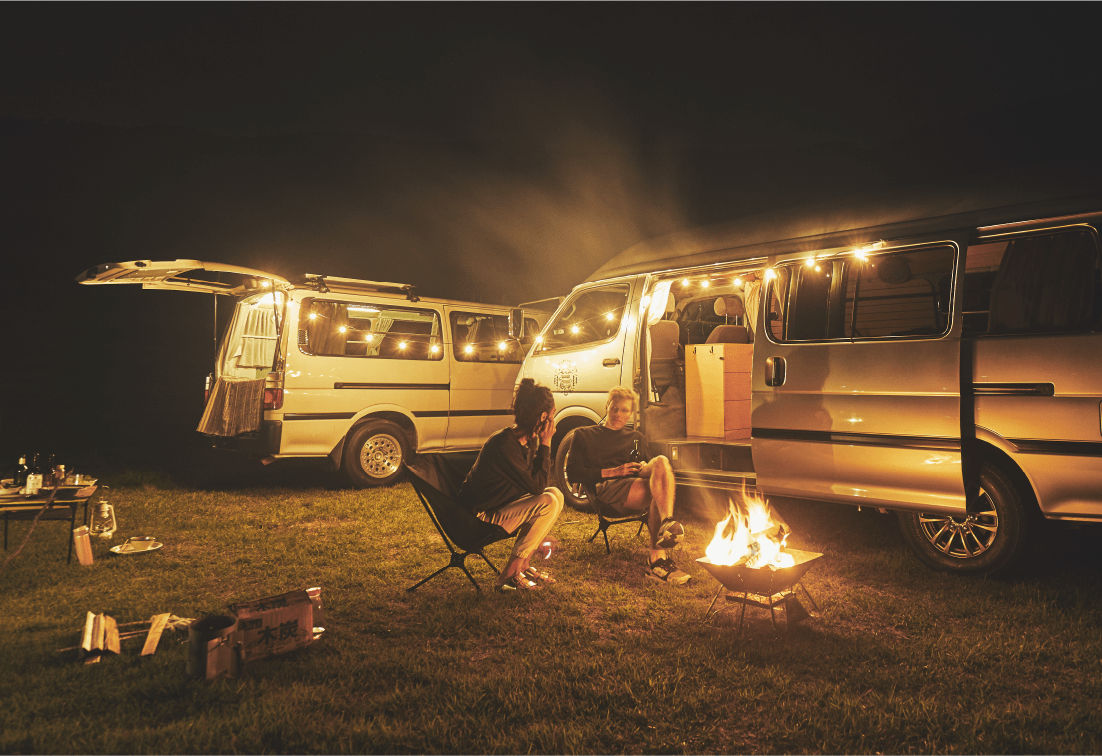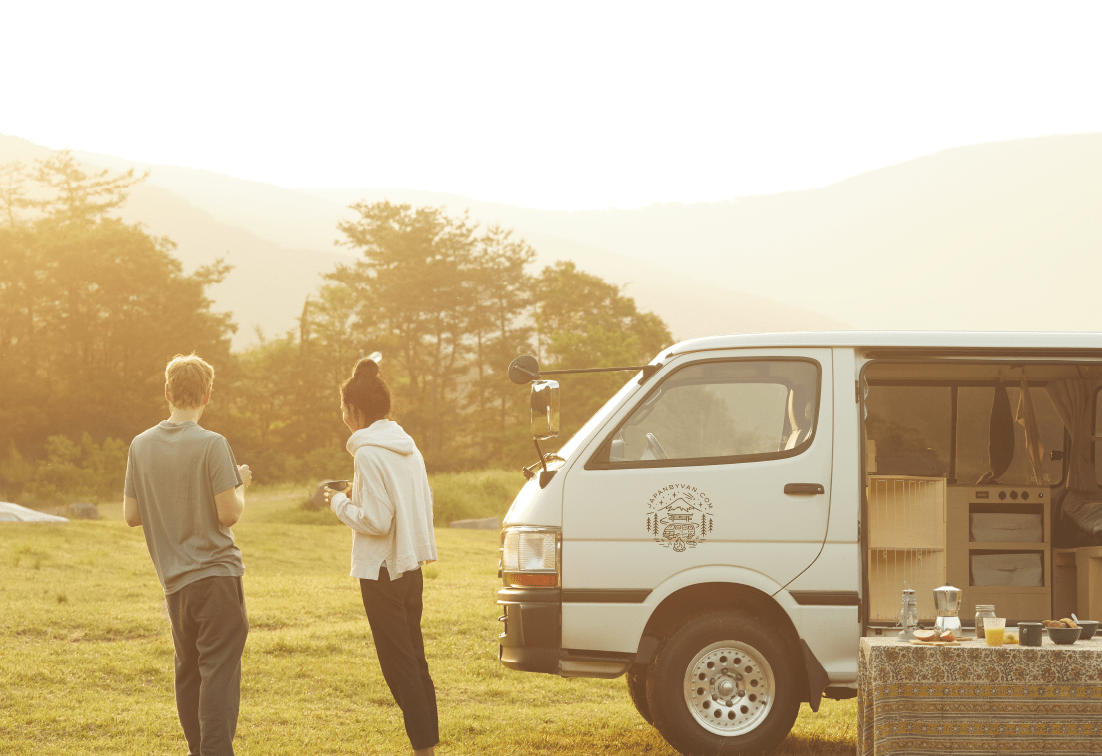 ABOUT
Welcome to Japan by Van!
Surrounded by a beautiful coastline and covered with mountains and forests, there is so much to explore in the countryside of Japan. And with thousands of hot springs, roadside stations and campsites where you can safely stay overnight, Japan is made to explore by campervan.
At Japan by Van, we love to share our passion with travelers from all over the world. Based 3 minutes by train from Shin Osaka station with convenient access from Kansai or Itami Airport, we are here to support you in English, German, French or Japanese before and during your trip. And if you don't know where to go, we are happy to provide personal recommendations and sample routes tailor-made to your interests.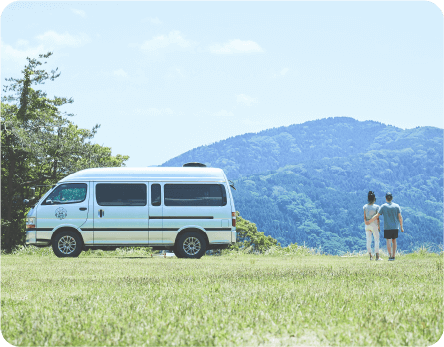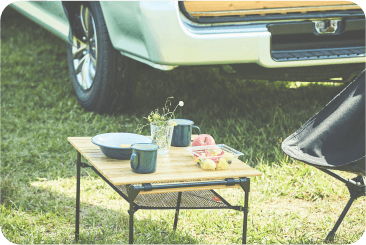 PROFILE
Nice to meet you! We are Lisa and Urs, a Japanese-Swiss/Swiss couple based in Osaka. Since 2019, we have been putting our heart and soul into providing cozy, practical and affordable campervans to explore western Japan and beyond, together with a personal service to make sure you return home with lots of great memories. We look forward to hearing from you!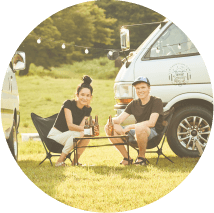 VANS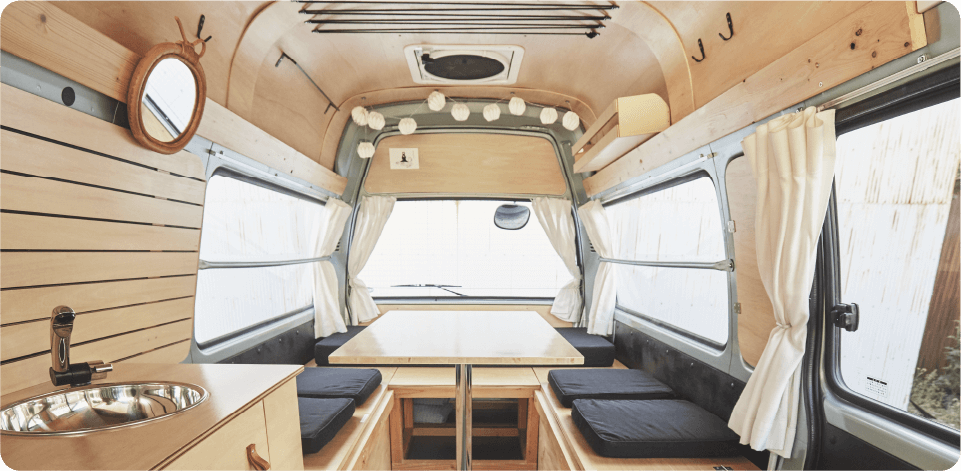 Tokushi, Hiroshi and Goya – each of our carefully refurbished vans
has its unique charm. Choose your favorite from the list below.
Goya is an ideal travel companion for couples or 2 friends looking for some extra space.

Hiroshi is a spacious van
suitable for 2 adults and max.
1 child.

Tokushi, the smallest vehicle in our fleet, is a compact campervan suitable for solo travelers or 2 adults.
FAQ
When and where can I pick up/drop off the van?

Pick up and drop off is possible between 8 AM and 6 PM at our van depot in Minami-Suita. Please let us know your arrival time 1 day in advance. We do not offer one-way rentals at the moment.

How does the parking heater work? Does it get warm enough even at high altitudes?

The heaters are tested and approved to work reliably up to 2200m. The gasoline tank of the van has to be filled at least 1/3, otherwise the heater doesn't work. This is a safety feature to avoid that the gasoline tank is being emptied while using the heater. The heater only consumes approx. 2L gasoline per night.

How many free kilometers are included?

All rentals include unlimited kilometers so you can drive as far as you like within Japan.

Can I bring my pet?

We do not yet offer pet-friendly vans.

Does my child need a child seat?

According to Japanese law, any child under the age of 6 needs to be in a car seat when riding in a car. Our vans only have one 3-point passenger seat belt which is in the front. A child seat can be rented with us for JPY 2500 per rental period.

Close

Why is a security deposit required?

Our vans are fully insured by a separate insurance company with a deductible of 100,000 JPY. In the event of a self-inflicted accident the applicable fee for the damage needed to be paid will be deducted from your Security Deposit.

What kind of insurance is included in the rental fee?

(1) Compensation for bodily injury: Unlimited per person (including liability insurance)
(2) Compensation for property: Unlimited per accident (deductible of 50,000 yen)
(3) Compensation for vehicles: Up to market value (deductible of ¥100,000)
(4) Personal injury compensation: Up to 50 million yen per person
Please contact us for details or have a look at our Terms and Conditions.

What is the maximum I would have to pay in case of an accident?

The maximum amount you'd have to pay in case of a fully self-inflicted accident or damaging of the vehicle is JPY100,000. Not included in the insurance are damages of the interior of the van caused by the renter, damages/injuries caused by a driver not registered in the rental agreement, while driving under the influence of drugs or alcohol and damage as identified in Article 17 of Terms and Conditions (Prohibited Acts). In this case, the full amount has to be paid by the driver, regardless of the deductible amount.

What do I have to do in case of a breakdown or accident?

The insurance includes 24/7 road assistance. Please contact us as early as possible in case of a breakdown or accident so that we can contact the insurance for you

Close

What kind of license do I need to drive in Japan?

International Driving Permits based on the 1949 Geneva Road Convention are required to drive legally in Japan.
Belgium, France, Germany, Monaco, Estonia, Switzerland and Taiwan do not issue permits based on the 1949 Geneva Convention, but instead have a separate agreement that allows drivers from these countries to drive in Japan for up to one year with an official Japanese translation of their driver's license. The translation has to be obtained before pick-up. Translations can be obtained from the Japan Automobile Federation (JAF). We will be happy to assist you in obtaining a translation.

Where can I park overnight with a campervan?

Roadside stations (Michi-no-eki)
Michi- no-eki are a combination of rest stop, parking area, farmers' market, local eatery, information center, and bathroom, all in one. Some roadside stations also have public baths or other facilities. Park and sleep at michi-no-eki is very common, though it is not allowed to take out camping gear or to cook outside. Please observe the local rules when using michi-no-eki.
RV Park / RV Park Light
RV Parks are areas dedicated to staying in the car. The RV Parks are certified by the Japan RV Association and meet certain conditions, i.e. a spacious parking space that allows you to stay for about a week, toilets which are available 24 hours, 100V power supply and nearby bathing facilities. Each facility has different pricing and rules. "RV Parks Light" do not meet all of the above conditions. Many RV Parks require booking in advance.
Campsites and Auto Campsites
There are about 1,300 campgrounds in Japan, although some sites are closed during winter. Booking in advance is usually not required except for national holidays.

Where can I take a shower?

We highly recommend visiting onsen (natural hot water baths) or sento (public bath not attached to a natural spring) during your road trip. There are more than 3000 onsen throughout Japan. Coin showers are available at campsites and some michi-no-eki.

How much are the highway fees?

Highway fees vary depending on the area. Highways in major metropolitan areas like Tokyo and Osaka are much more expensive than highways in the countryside. The average price per kilometer for an ordinary car is around 25 yen. There are extra fees for large suspension bridges connecting Honshu and Shikoku. Please contact us if you would like to know the price for a specific route.
A great way to save highway fees, gasoline and time are ferries (e.g. from Osaka to Kyushu). Have a look at the domestic ferry routes here or contact us for more information.

Can we rent an ETC card with you?

ETC is a system which allows drivers to automatically pay tolls on toll roads without stopping the car. Our vans are equipped with ETC card readers so you can bring your own card, but it is currently not possible to rent an ETC card.

I am not sure where to go. Can you help me put together an itinerary?

We are happy to assist you with personal recommendations and sample routes tailor-made to your interest and needs.

Close

How much do I have to pay if I cancel my reservation?

More than 30 days in advance: 10% of total price (booking fee)
・30 days in advance: 25% of total price
・7 days in advance: 75% of total price
・3 Days in advance: 100% of total price

Close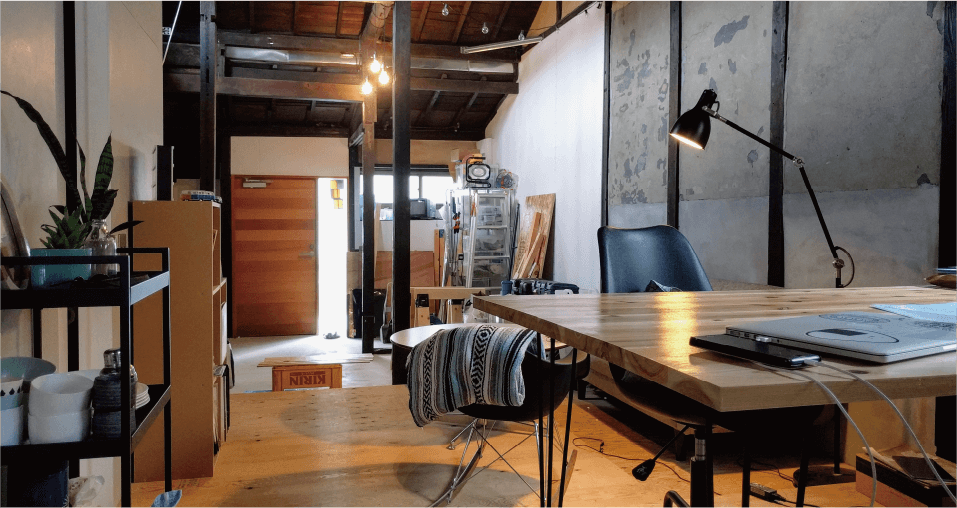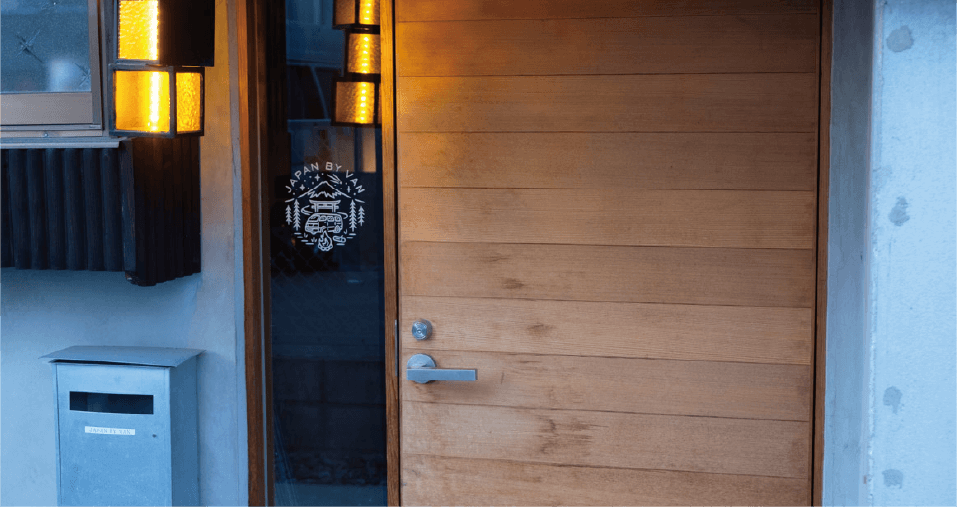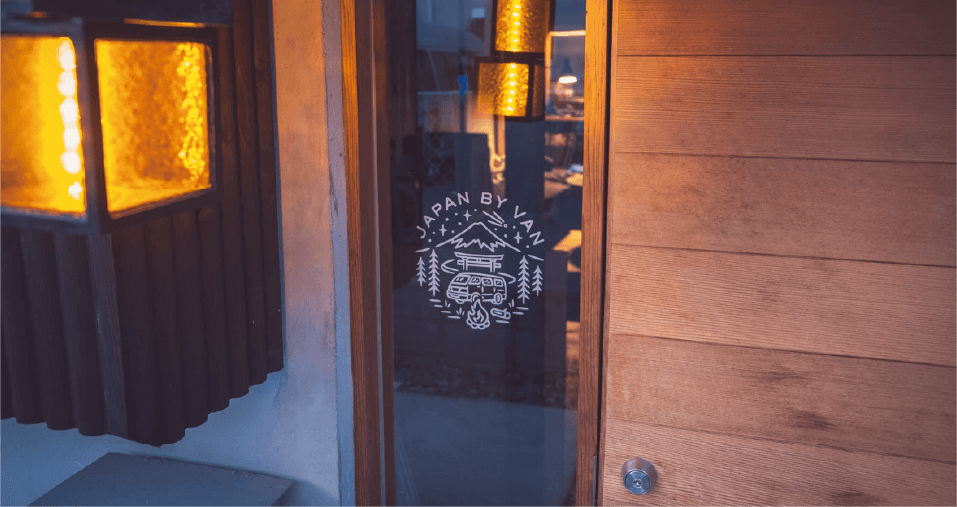 JAPANBYVAN.COM
2-Chōme-16-17 Minami-Suita, Suita, Osaka 564-0043
Access from Shin-Osaka station: JR Osaka Higashi Line to Minami-Suita station. From Minami-Suita station, it is a 3 min walk to our office.